UPM® Permanent Pavement Repair Material is the high-performance asphalt patching material that is easily applied any time of the year, under any weather conditions. UPM® has been tested and refined to the point where it is now the worldwide standard.
Since over 90% of all potholes patched with UPM® Cold Mix never need patching again, excess money is not poured into the same pot holes repeatedly!
Most patches using UPM® outlast the surrounding pavement and Unique Paving Materials Corporation guarantees it in writing.
Call Zarnoth today and try a bag! See for yourself how well it performs!
Easy
Application
UPM® is quick and easy to apply, with no special or expensive equipment required.
Step 1 - Apply
Just sweep the area to be repaired removing loose debris.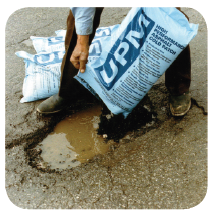 Step 2 - Shovel
Shovel or pour into the hole.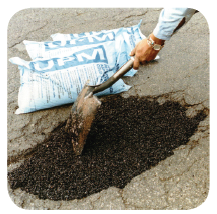 Step 3 - Compact
Compact the patch and it's ready for traffic.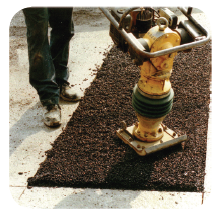 Coverage
10 lbs. per square foot, per 1 inch of depth. UPM® is available in 50 lbs bags. Bags sold separately or by the pallet of 56 bags for the best price.
All-Weather Workability and Dependability
Many asphalt patching materials weaken in challenging weather conditions. Our customers love the fact that UPM® Cold Patch is easy to apply year-round, and stays in the pothole permanently.
High Performance = Cost Effectiveness
If you've had to repair the same roads and potholes over and over, you know how frustrating and expensive it can be.