So many options - filament, bristle length, stiffness, density, coarseness/softness, brush length, channel size, resistance to chemicals, temperature extremes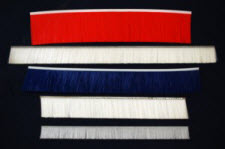 Zarnoth has a stock of frequently used brush strips for the sweeping industry.
If you would like to speak with your Zarnoth Brush salesperson about custom application brushes, we would be happy to work with you to select the ideal combination of brush features for your specific need. Just give us a call and we'll stop by!